Grand Hotel and Mackinac Fun Facts
Grand Hotel opened on July 10, 1887.
The Musser family owned Grand Hotel for over 85 years.
At 660 feet, Grand Hotel's Front Porch is the world's largest, and is visible as you approach the Island from Lake Huron.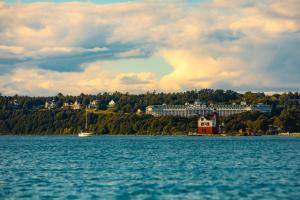 Grand Hotel is 332,500 square feet.
No motorized vehicles are allowed on Michigan's Mackinac Island. All transportation is provided by horse and carriage or bicycle.
Mackinac Island is accessible only by ferry boat or plane.
More than 150,000 overnight guests stay at Grand Hotel each season.
The 5,000,000th guest in Grand Hotel history checked in on June 26, 2006.
While nearly 1 million people visit Mackinac Island each year, the Island has less than 600 year-round residents.
It takes 500,000 gallons of water to fill Grand Hotel's swimming pool, which was named for actress Esther Williams when she starred in the 1947 movie, This Time for Keeps, shot at Grand Hotel.
The 1980 film Somewhere in Time, starring Christopher Reeve, Jane Seymour and Christopher Plummer, was filmed on location at Grand Hotel. The movie now has a huge following and fan club that meets yearly at Grand Hotel in late October.

There are more than 500 horses on Mackinac Island.
Six U.S. Presidents have visited Grand Hotel: Presidents Biden, Clinton, Bush, Ford, Kennedy and Truman.
Grand Hotel's kitchen staff of more than 100 people prepares and serves as many as 4,000 meals per day.
During the 2019 season, Grand Hotel used 9,000 pounds of prime rib, 102,500 pounds of potatoes, 5,500 pounds of rack of lamb, 6,400 pounds of bacon, 42,500 pounds of strawberries and 6,000 pounds of pecans.
More than 60,000 Grand Pecan Balls, the Hotel's most popular dessert, are consumed each season.
The Grand's famous Front Porch flowers include 1,375 geraniums in 147 planting boxes with 12 yards of potting soil.
Grand Hotel uses 2,500 geraniums, its trademark flower, in all its flower beds combined.
24,120 bulbs are planted in the fall, including 18,000 tulips.
The Secret Garden contains 8,000 hyacinth bulbs and 1,000 daffodils and tulips.
More than 125,000 bedding plants (annuals) are used to create the many gardens on Grand Hotel grounds.

Sadie's Ice Cream Parlor is named after the Scottish terrier, Sadie, belonging to Mr. and Mrs. R.D. Musser, prior owners of Grand Hotel. Sadie won "Best In Show" at the 2010 Westminster Dog Show. Queenie, the youngest daughter of Sadie, won "Best in Show" and "Reserve Best in Show" at the 2015 AKC/Eukanuba Show in Orlando.
Our award-winning 18-hole golf course, The Jewel, is the only course in the world that transports guests from the front nine to the back nine via horse-drawn carriage.
Knights of Columbus has the longest-standing meeting tradition at Grand Hotel, dating back to 1954. The organization has visited for 65 years.