Grand Hotel's 135th Birthday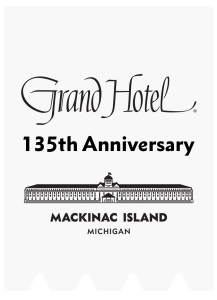 Let's gather together to celebrate Grand Hotel's 135th birthday throughout July, and especially on July 10th (our actual birthday)! Celebrate with family and friends while exploring the best that a Mackinac Island summer has to offer.
Experience special events, packages, activities and more – both on-property and at home.
From 1887 to 2022
The Michigan Central Railroad, Grand Rapids and Indiana Railroad, and Detroit and Cleveland Steamship Navigation Company form the Mackinac Island Hotel Company to build Grand Hotel. The hotel was built in just 93 days and officially opened on July 10, 1887 as a summer retreat for vacationers who arrive by lake steamer from Chicago, Erie, Montreal, Detroit, and by rail from across the continent. The hotel's season was two months long during July & August.
135th Birthday Celebration – July 10th
We invite those staying with us to celebrate our 135th birthday with a party on the Front Porch. Enjoy cake, a toast, live music, speeches and more on Sunday, July 10th at 10:00 AM.