Woods Restaurant Celebrates 100 Years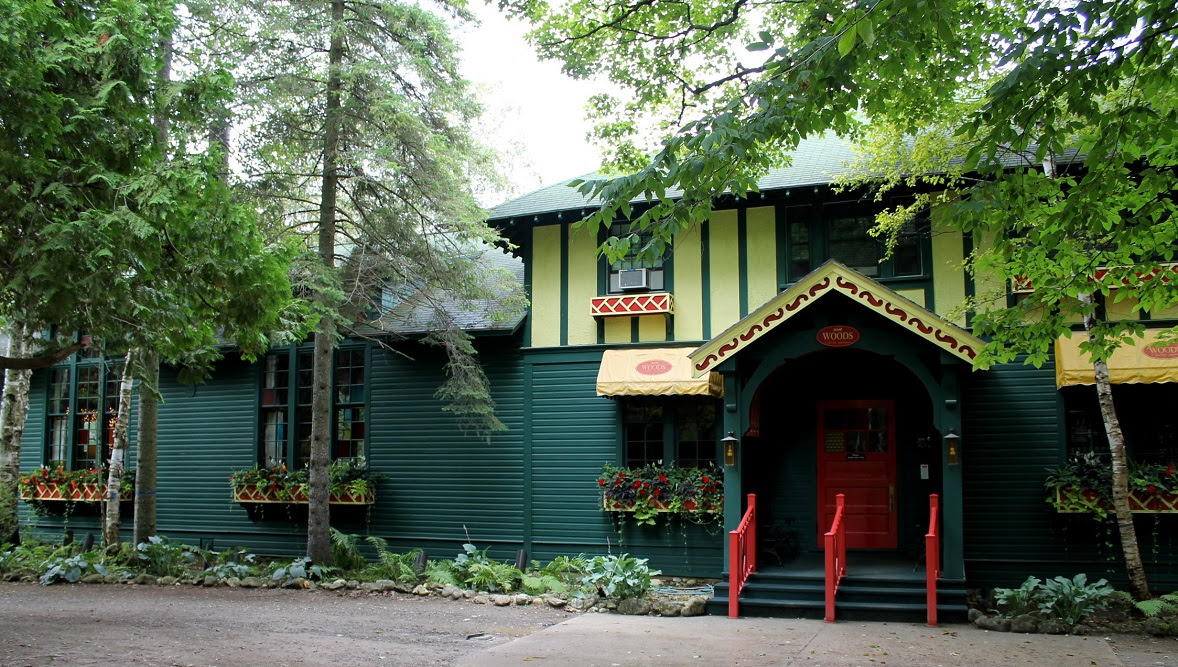 The building of Woods Restaurant located on Cudahy Circle celebrates its 100th year!  Located in the interior of Mackinac Island – a short horse-drawn carriage will take you to a Grand Bavarian atmosphere that is beautiful, unique and one of a kind. It is also home of America's oldest duck pin bowling alley and Bobby's Bar.
After 100 years Woods Restaurant has rich history. Stonecliff, the opulent Tudor Mansion located near Woods Restaurant was built in 1905 by The Cudahy Family. The mansion was first sold to the Hert family in 1915 who built the building that is now Woods Restaurant as a playhouse for their children. Later, Stonecliffe housed several religious and educational institutions until George A. Staffan acquired it in 1977. Mr. Staffan concentrated on improving the mansion's infrastructure, developing it into a distinctive resort property. Currently Grand Hotel owns the restaurant and the golf course property at Stonecliffe, while Mr. and Mrs. Bob Pulte own the mansion itself.
Entering Woods you step into the lobby where a variety of mounted trophies are displayed.  Almost all of the deer, moose and ducks throughout the restaurant were taken for their meat by islanders during the appropriate hunting season.  Woods provided hunters a place to display their trophies which adds to the hunting lodge appeal.
The restaurant of today owes much of its beauty and ambiance to the Musser Family and the devotion of Stonecliffe's former owners. The raised stage in the back was added by the Hert family as part of their Amusement Lounge. This area is now used for seating and provides a view of the entire restaurant. The ski-motif stained glass windows were added by the Rex Humbard family, who also made major improvements to the infrastructure. In 1991 the Musser family wanted to create a restaurant away from town and completely different then any of the other downtown restaurants. Today's Bavarian theme is the creation of renowned New York designer, Carleton Varney who is also Grand Hotel's Interior Designer. In 1992 Carleton Varney completely renovated the structure of Woods and redecorated the interior.  His vision for the Woods came true in 1993 when the restaurant had its grand opening. 
The combination of live piano music and fireplaces provide just the perfect ambiance and make you feel right at home. 
We look forward to charming guests for another 100 Grand years.
Take a full tour of the inside of Woods Restaurant above.